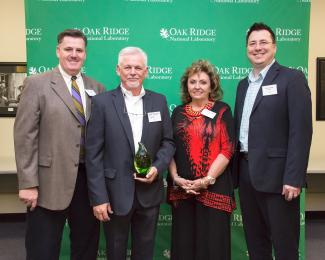 Recipient: ACS Document Imaging Inc.
Oak Ridge National Laboratory honors local and regional companies with the Small Business Impact Awards. The 2016 awards were announced at the East Tennessee Economic Council meeting in Oak Ridge on April 8.
The annual event recognizes the contributions of small businesses to laboratory and regional development in categories emphasizing their specific capabilities and contributions.
ACS Document Imaging Inc., a small business located in Knoxville, received the 2016 Innovator Award for the development of an outstanding idea, process, project management mechanism, or technology. ACS has assisted the laboratory for several years in the area of records management and information processing for the organization.
UT-Battelle LLC procurement operations are led by LeAnne Stribley, director, Acquisition Management Services Division, which resides in the Business Services Directorate, headed by Chief Financial Officer Scott Branham. Cassandra McGee Stuart is the Small Business Programs Office manager.