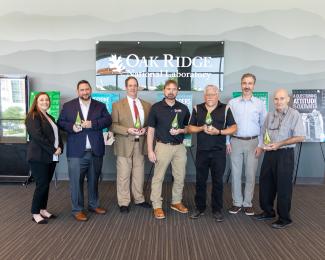 Hosted by the Small Business Programs Office in the Contracts Division, the ORNL FY22 Small Business Awards recognized the capabilities and contributions of four small business subcontractors and one staff member that have supported the mission of ORNL during fiscal year 2022.
Geiger Brothers, a HUBZone small business with locations in Knoxville and in Columbus and Jackson, Ohio, was recognized for the company's outstanding work in construction. Members of ORNL's procurement and technical staff said the company earned a reputation for high quality work at reasonable market costs, even providing storm water protection measures at their own cost to mitigate future impacts of a heavy-weather storm, ultimately saving ORNL thousands of dollars in potential losses.
Government Scientific Source, a small business located in Reston, Virginia,was recognized for quick response time and professionalism providing a variety of products through the ORNL catalog vendor system. GSS proactively solved a V Vial glass shortage by looking for alternatives, confirming timely shipping and initiating consistent updates. 
Inovoal, an engineering and project management small business located in Spring, Texas, was recognized for outstanding contributions to the U.S. ITER project. The company first provided a nitrogen tank, an essential component of the cooling water system used to manage heat during operations, and continued to provide additional products, maintaining a flexible and strategic approach that helped ORNL reduce costs while producing high-quality outcomes.
Kalt Manufacturing Company, a manufacturing small business located in Cleveland, Ohio, was recognized for support of the critical fabrication activities for the High Flux Isotope Reactor's Beryllium Reflector Replacement project.
Roy Etheridge, an ORNL procurement officer, was named ORNL Small Business Advocate of the Year. Roy is being honored for his consistent support for small business in his procurement activities, including work with the staff augmentation Basic Ordering Agreement.